Once again, I've ended up posting this later than expected but better late than never as they say...
So last weekend I packed up the bike ready for plenty of birdy shenanigans at the Birdfair. I've only been the once before and only for the one day whereas this time I'd be going for both the Saturday and Sunday. Here is the mighty SV650 (or as she is affectionately known, Thump!) all set to head south.
I'd been very lucky in managing to bag a late booking for a couple of friends and I at a beautiful cottage in the sleepy village of Sudborough...but I was setting off close to rush hour and the ride down involved mostly filtering down a somewhat gridlocked M62 and A1, oh the joys! So tired when I arrived but very pleased to find a most welcoming hostess and a kettle, teabags and biscuits awaiting. Just needed to wait for the cavalry to arrive.
After a comfortable night's sleep we were looking forward to getting plenty done at the fair. The day before my friend Sarah had delivered a very special painting to the Birdlife Malta stall as it was being auctioned off to raise money for this fantastic organisation and its dedicated team of staff and volunteers. The artist is Alan Harris who is renowned for his meticulously painted pieces mostly involving birds set in beautiful landscapes. Alan is also a well known illustrator who, together with Keith Vinicombe (the author of the Helm Guide to Bird ID) was book-signing at the Fair. A very useful book indeed for any level of birder, taking a detailed look at those species which can be easily confused.
Available to buy now!
Back to goings on at the Fair, lectures and events were being held throughout the day and we knew there was one we couldn't miss. Chris Packham was giving a talk on Malta - Massacre on Migration. Massively inspirational talk with a VERY packed out marquee, apparently 700 people were there, incredible. The atmosphere was amazing, such a serious message and it was fantastic to see Birdlife Malta getting the support it so rightly deserves. The ongoing Massacre is truly chilling, hundreds of migrating birds are shot for fun as they pass through the island of Malta during the spring and summer months. Chris Packham made a video blog when he went over there, you can watch the first of these by clicking
here
. A few pics from the talk itself, inspiring stuff.
Chris Packham with Maltese volunteer Nimrod Mifsud
Alan Harris' painting of two Montagu's Harriers on stage
Apparently the ONLY standing ovation
anyone remembers at a Birdfair
Next up - this is in between me shopping for a new pair of binoculars - Bird Brain of Britain...a quiz show which traditionally takes place every year at the Birdfair, think of it like Mastermind for birders! Four contestants are quizzed by the host on their specialist subjects. It looked bloomin' nervewracking up there and Bill Oddie certainly takes no prisoners. A great bit of fun though :D
The host, Mr Bill Oddie himself!
Many stalls and many pairs of binoculars later, I eventually settled on a fine pair that ticked all the boxes...and they'd SOLD OUT! On the Saturday! Gutted didn't quite cut it, you spend ages making a decision only to find out people have beaten you to it, most disappointing. But, I have them now, they arrived yesterday and they were well worth the wait :D
Someone did pop up trying to sell me Zeiss bins...look familiar?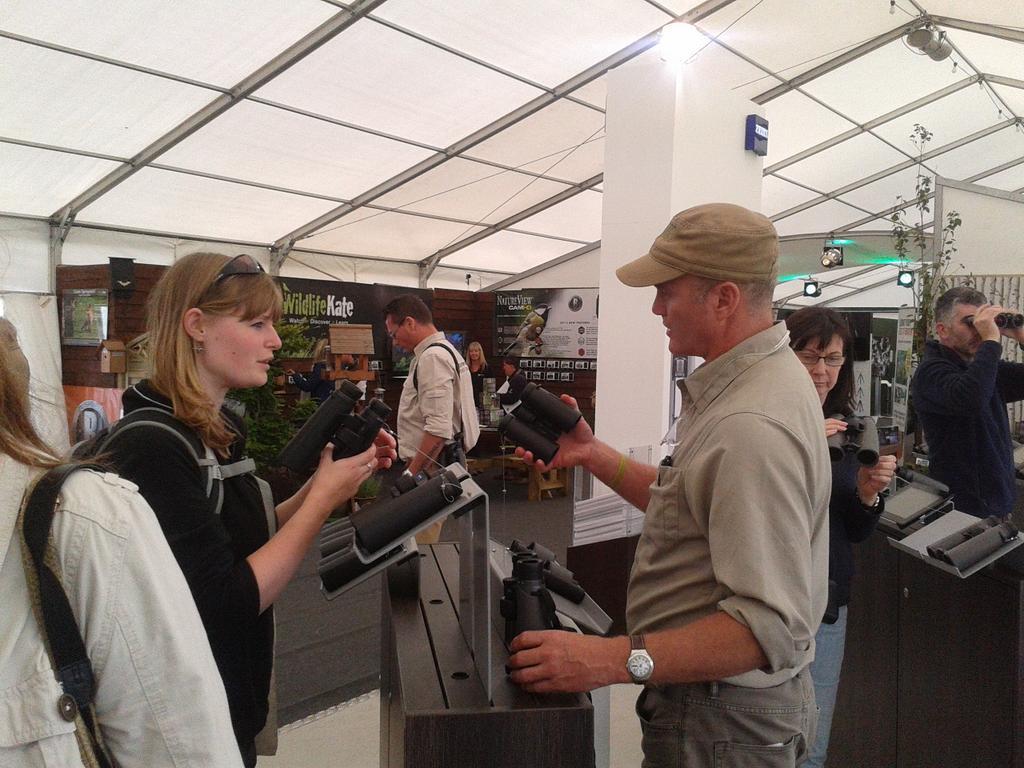 Yep, Mr Simon King!
It was also a celebration for the British Trust for Ornithology, 20 years of the Breeding Bird Survey...which of course can only mean one thing...CAKE! And what a whopper, very tasty too I might add :)
A highlight to my Sunday was bumping into a fellow Twitterer who I'd not met before who congratulated me on my Gorillas being shortlisted for Wildlife Artist of the Year earlier on in the summer, such a lovely chap who made my day so thankyou Simon!
I'd left off visiting the Art Marquee until the Sunday afternoon, knowing it would be a great way to finish a busy busy weekend. Amazing work on display as always. Art popped up all over the place at the Fair as it happened, this eyecatching Osprey fashioned out of horseshoes was a particular favourite of mine, made by
Nick Forryan, a
farrier (naturally! :D)
And of course, the traditional art mural which progresses as the weekend unfolds, lovely to see artists at work and such different styles all on the same canvas!
It's not always about the birds you know! :)
So a fantastic weekend all in all and I've finally got round to investing in a brand spanking new pair of binoculars, can't wait to try them out in Scotland next week...Another blog post I hope!
That's all from me for now, need to take a breather after that lot!
Meg x