Life seems to have turned into even more of a rollercoaster than usual since we got Toby, certainly not a bad thing! Feels like we've had him years already, he's a cheeky little boy with a penchant for gloves, socks and anything he can nick out of a waster paper bin that he thinks will get a reaction! He's not reached full maturity yet in German Shepherd terms, though he's not far off. Still very much a puppy!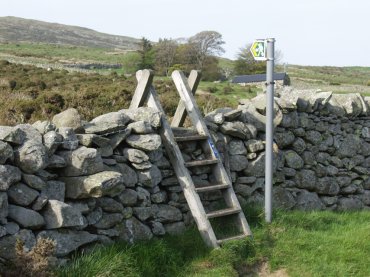 So this weekend seeing as Saturday was the Spring Equinox, myself, a friend and of course Toby went for a drive into the Yorkshire Dales for a lovely walk starting at Horton-in-Ribblesdale, middling at Helwith Bridge and up the side of Pen-Y-Ghent, one of the famous Three Yorkshire Peaks. Toby is being eased into this country bumpkin lark having come from a city background and so stiles are a seemingly new concept to him. When he first arrived, jumping over anything seemed fairly alien but he's cottoned on quick! A couple of stiles en-route looked something like this... >>>
Now anyone who goes walking with dogs will know how awkward it is getting dogs over this design of stile, I expect border collies can jump in one leap but, as I've experienced with Madam Maya the Malamute, some dogs just ain't going to make it. Regardless of managing to walk up normal stairs, these stiles are just not cutting the mustard...The first one we encountered involved me picking up Toby (all nearly 32kgs of him!) and bundling him up the stile in a less than graceful fashion. At the next one of these stiles there was a gate next to it but the entrance was blocked by farm machinery...my friend was trying to coax Toby round the back of it and down the side of a wall to get through the gate but he was just looking at us daft. As I realised I was going to have to go back over the stile and lead him round Toby then instead decided we'd faffed about far too much and simply scaled the 5ft dry stone wall...the biggest jump I've seen him manage yet! #Proud moment# All this exercise was clearly paying off and building up his muscles as he wasn't fit enough to manage a large jump like that a few weeks ago!
Anyway I digress...A few photos from the walk, taken from my phone so my apologies for the quality!
A beautiful white stream...
Last time we did this walk this stream was frozen so it was hard to see it's true colour. Little did we know it was full of creamy limestone deposits resulting in gorgeous crystal clear water flowing into the River Ribble.
View of Pen-Y-Ghent
Toby enjoying one of many stiles!
The River Ribble
Swaledales
Panorama and a Tobydog
Lovely views were had of dipper, curlew, oystercatcher and soaring buzzard. A stop off in Settle on the way home for a cheeky bag of chips to keep the hunger pangs away, a cracking end to a lovely day out.
On Sunday, with such blue skies overhead, I thought I'd bring out my old faithful motorbike for a spring clean. I managed about 15 minutes of scrubbing before getting bored, I was never one for making her sparkle, as she only gets mucky again! I'm afraid I'm a firm believer that life is too short for cleaning and bikes are made for riding after all! Instead I grabbed my camera as I couldn't resist a photoshoot. Toby was obliging as usual...
My lovely Thump, slightly cleaner!
Enjoying the sun, tis hard being a dog!
Pretty and he knows it...
Smiler!
So lucky to own these two beauties!
Then of course the word on everyone's lips on Friday had been the eclipse, it was pretty cloudy here for the duration of it, these were the shots I managed but nothing to shout about I'm afraid!
In other news, I am drawing quietly in the background, a couple of commissions are keeping me occupied. A spot of bird ringing is being managed in and among work days which is grand. With any luck I'll be close to getting my C-licence by the end of the year, if I can get the ringing time in!
The ecological survey season is just around the corner and I will have more than enough to keep me busy in that department so it's lovely to be able to make the most of my spare time walking and drawing before life becomes the hectic ball of fun that comes with surveying great crested newts, bats, otters and more! I love having the excuse to be out and about when nature is waking up. Nearly stood on these two on one dog walk...
Ribbety giggedy
Snowdrops and crocuses
I've rambled on long enough this morning but lots to catch up on! Until next time, I shall leave you with this two headed daffodil, it sprouted just the other day :)
Enjoy your start to spring all, can't believe it's nearly Easter!
Meg x